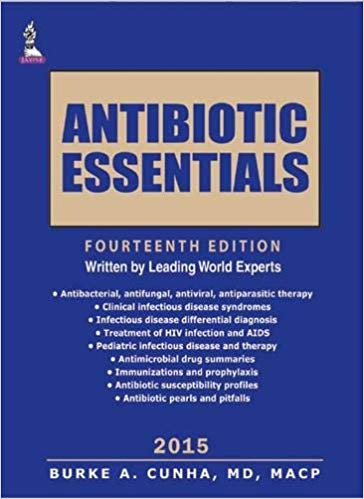 By Cunha, Burke A., M.d.
Paperback: 780 pages
Publisher: Jaypee Brothers Medical Pub; 14 edition (June 30, 2015)
Language: English
ISBN-10: 9351528502
ISBN-13: 978-9351528500
This is the latest edition of Antibiotic Essentials, a pocket guide to antimicrobial therapy and infectious diseases, updated annually. Not simply a collection of guidelines, but a practical and authoritative guide, written by expert clinicians for practising clinicians, presented in a user friendly format. Antibiotic Essentials provides an overview of antimicrobial therapy, followed by guidance on therapy for over 550 clinical syndromes, including cardiovascular infections, sexually transmitted diseases, sepsis, and transplant infections. Subsequent chapters cover antibiotic susceptibility profiles, parasites, fungi and other organisms, HIV infections and prophylaxis. A separate chapter covers infectious diseases and antimicrobial agents in paediatrics. A chest x-ray atlas and a list of antibiotic pearls and pitfalls are also provided. This new edition encompasses over 170 antimicrobial drug summaries in its concluding chapter, including six recently approved antimicrobials, new to this edition. Each antimicrobial drug summary includes pharmacokinetic data, antibiotic resistance potential, adverse effects, drug interactions, and dosing recommendations. Antibiotic Essentials is edited by Burke A Cunha MD MACP, Chief, Infectious Disease Division, Winthrop University Hospital, Mineola, New York, and Professor of Medicine, State University of New York School of Medicine, one of the world's leading experts on antimicrobial therapy and infectious diseases. Key Points New edition of annual publication Antibiotic Essentials Fully updated to provide latest therapeutic recommendations Antibiotic Essentials is a user friendly, practical, pocket guide, written by experienced clinicians, for practising clinicians Previous edition (9789351523468) published 2014
Premium Content
Login to buy access to this content.