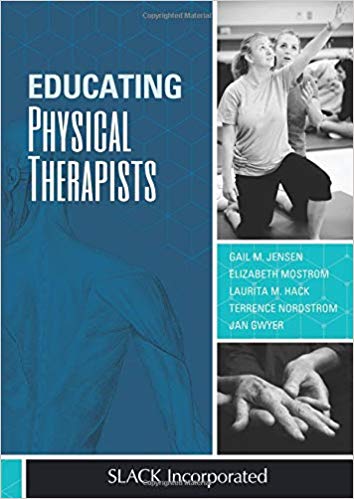 By Gail Jensen PT PhD FAPTA
Paperback: 304 pages
Publisher: Slack Incorporated; 1 edition (October 15, 2018)
Language: English
ISBN-10: 1630914118
ISBN-13: 978-1630914110
The Preparation for the Professions Program by the Carnegie Foundation for the Advancement of Teaching focused on education in five professions (clergy, law, engineering, nursing, and medicine), but its influence has been felt throughout higher education and has inspired other professions to turn a critical eye to their own pedagogy.
Modeled after the Carnegie Foundation's example, Drs. Gail Jensen, Elizabeth Mostrom, Laurita Hack, Terrence Nordstrom, and Jan Gwyer began an examination of the state of physical therapist education in the United States in their study, Physical Therapist Education for the Twenty First Century (PTE-21): Innovation and Excellence in Physical Therapist Academic and Clinical Education. With the same team of authors, Educating Physical Therapists documents this examination, detailing the key findings of the study and expanding on its implications.
The text begins by looking at the current state of physical therapist education across the continuum, from professional education through residency, then continues by describing exemplars of excellence and best practices that were observed in academic and clinical settings. Through this survey of the profession, a conceptual model of excellence in physical therapist education is derived and presented with practical recommendations.
Areas addressed:
Elements that promote a culture of excellence
Critical needs for advancing learning and the learning sciences
Academic and clinical organizational imperatives
The critical need for system-based reform

Finally, after looking at the current state of physical therapy education, Educating Physical Therapists looks to the future, providing a reimagined vision for what professional education and the profession could be. These recommendations for growth come with commentary by international experts in physical therapy education, providing a wide range of perspectives.
After an intensive examination of physical therapist education, Educating Physical Therapists is designed to change the way educators and administrators across academic and clinical settings prepare physical therapists for the future.

From the Foreword…
"The authors of this volume have much to teach us, and they have taught us well. We can accept their recommendations, or we can argue with them. To ignore them is impossible."
-Lee S. Shulman, PhD, President Emeritus, The Carnegie Foundation for the Advancement of Teaching



Premium Content
Login to buy access to this content.