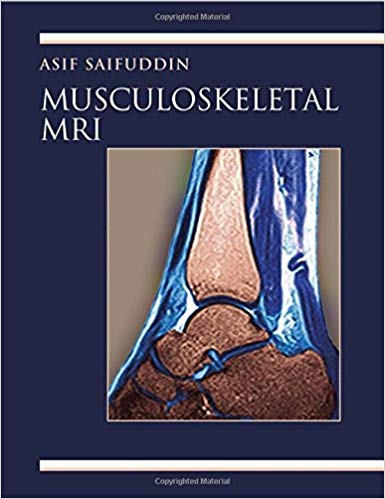 By Visit Amazon's Asif Saifuddin Page, search results, Learn about Author Central, Asif Saifuddin
Series: Hodder Arnold Publication
Hardcover: 1232 pages
Publisher: Hodder Education Publishers; 1 edition (June 30, 2008)
Language: English
ISBN-10: 0340906618
ISBN-13: 978-0340906613
Covering the entire musculoskeletal system, and all conditions – both common and rare –
Musculoskeletal MRI
is a truly rapid-reference guide for use in the clinical setting. Heavily illustrated with high quality images, the information is presented in an easy to digest bullet-point format, providing the radiologist with all the information required to make an informed diagnosis.
The book is divided by body part (shoulder, knee, spine, etc.) and each chapter begins with a section on technical considerations. The body part is then subdivided into smaller areas, and descriptions and pictures of the normal anatomy are provided. These are each followed by a comprehensive, illustrated listing of the various pathologies for each area.
The text is supplemented by an invaluable differential diagnosis listing, and is further enhanced by very thorough referencing.
Premium Content
Login to buy access to this content.