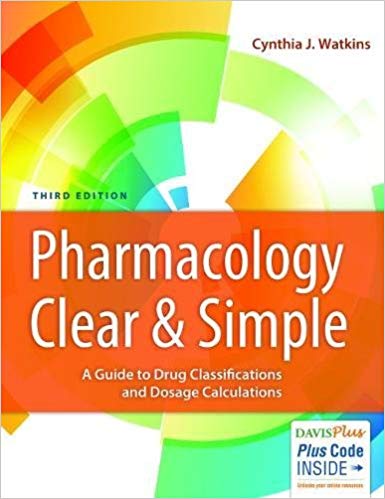 By Watkins RN MSN CPN, Cynthia J.
Paperback: 528 pages
Publisher: F.A. Davis Company; 3 edition (April 18, 2018)
Language: English
ISBN-10: 0803666527
ISBN-13: 978-0803666528
Basic math review helps students learn to perform the calculations necessary to administer medications correctly.

"Master the Essentials" tables

cover side effects, precautions, contraindications, and interactions for each classification.

Drug classification review tables reinforce need-to-know information in each class.

"Fast Tip" boxes offer quick facts and mnemonics.

"A Closer Look" boxes examine important information in detail.

"Check-up Questions"

throughout each chapter promote understanding and help students retain and apply the information.

Coverage of specific drugs provides context for learning drug classifications.

Critical-thinking exercises encourage students to think beyond the chapter and apply their

new knowledge to real-life scenarios.

Application exercises and review questions at the end of each chapter reinforce learning.
Premium Content
Login to buy access to this content.