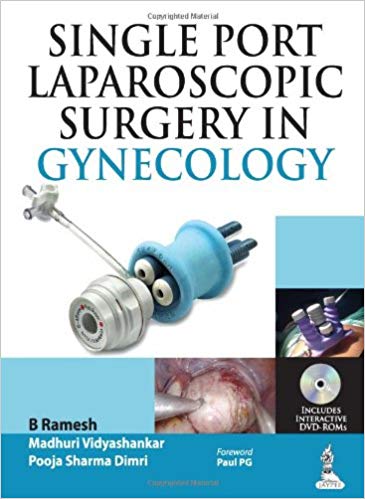 By B., M.D. Ramesh, Madhuri Vidyashankar, Pooja Sharma, M.D. Dimri
Hardcover: 173 pages
Publisher: Jaypee Brothers Medical Pub; 1 edition (November 1, 2013)
Language: English
ISBN-10: 9789350906385
ISBN-13: 978-9350906385
ASIN: 9350906384
Single port laparoscopy, also known as laparo-endoscopic single-site surgery (LESS), is a minimally invasive procedure in which a surgeon operates almost exclusively through a single entry point, typically the patient's navel. Compared with traditional multi-port laparoscopic techniques, benefits of this procedure include less postoperative pain, less blood loss, faster recovery time, and better cosmetic results.
This book is a guide to single port laparoscopic surgery for practising gynaecological surgeons. Divided into three sections, it begins with the basic principles, instruments and techniques. The second section provides in depth coverage of LESS for various gynaecological conditions including ectopic pregnancy, hysterectomy and in gynaecological oncology.
The final part of the book discusses recent advances in LESS, examining robotic-assisted surgery and newer trends. Tips and Tricks for beginners are also included.
Key points
Guide to single port laparoscopic surgery for practising surgeons

Covers instruments and techniques and surgery for numerous gynaecological disorders

Final section examines recent advances and future developments

Includes nearly 300 images, illustrations and tables
Premium Content
Login to buy access to this content.