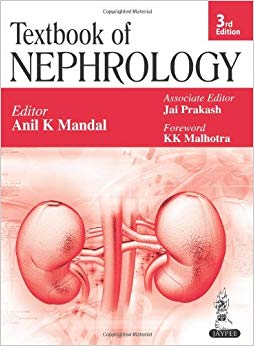 By Anil K. Mandal, Prakash, Jai, M.D., K. K. Malhotra
Hardcover: 489 pages
Publisher: Jaypee Brothers Medical Pub; 3 edition (March 1, 2014)
Language: English
ISBN-10: 9350905329
ISBN-13: 978-9350905326
This third edition has been fully revised to bring clinicians fully up to date with the most recent advances in the field of nephrology.
Divided into eight sections, the book covers diagnosis and management of different kidney-related problems, including fluid, electrolyte and acid-base disorders, renal failure, hypertension, glomerular disease and stone disease. New to this edition, are several chapters dedicated to diabetes, a key element in nephrology. The final sections discuss dialysis and transplantation, and paediatric nephrology.
Written by recognised expert, Anil K Mandal, from University of Florida in Gainesville, this comprehensive new edition includes nearly 270 full colour images, diagrams and tables.
Key points

Fully revised, new edition bringing clinicians fully up to date with latest developments in nephrology
Includes new chapters on diabetes and nephrology
Written by recognised expert from University of Florida
Previous edition published in 2004
Premium Content
Login to buy access to this content.