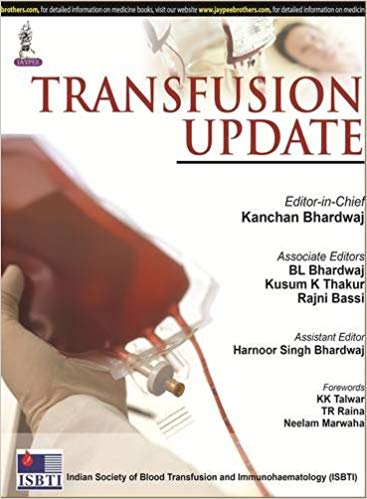 By Kanchan Bhardwaj
Paperback: 317 pages
Publisher: Jaypee Brothers Medical Pub; 1 edition (December 31, 2015)
Language: English
ISBN-10: 9351525988
ISBN-13: 978-9351525981
Transfusion Updatecovers a broad range of topics concerning blood banks and transfusion, including collection and storage, testing and transfusing blood components, and cellular therapies.
Comprised of four sections, divided into 81 chapters, the book begins with a section on clinical haemotherapy, which incorporates transfusion in medicine, surgery, maternal foetal and neonatal practice, massive transfusion, platelet therapy and apheresis. Other subsections include information on chronically transfused patients, and intervention bleeding patients.
The second section provides information on cellular therapies, including stem cell therapy for a variety of diseases. The third section on blood safety covers important topics such as improving blood donor screening, bacterial detection in blood components, discarding of blood and blood components, and adverse transfusion reactions. The final miscellaneous section includes ethical issues and recent advances in the field of blood transfusion such as gel based technology.
Transfusion Updatefeatures the latest in evidence-based transfusion medicine, enhanced by 70 illustrations, images and tables throughout.
Key Points
Comprehensive coverage of topics in transfusion medicine
Up-to-date guidance on transfusion procedures, cellular therapies, safety, and discussion on future technologies
70 images, illustrations and tables
Premium Content
Login to buy access to this content.