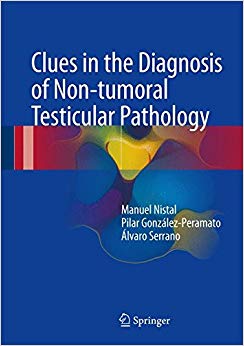 By Manuel Nistal, Pilar González-Peramato, Álvaro Serrano
Hardcover: 376 pages
Publisher: Springer; 1st ed. 2017 edition (March 14, 2017)
Language: English
ISBN-10: 9783319493633
ISBN-13: 978-3319493633
ASIN: 3319493639
This book presents the morphology of different non-tumoral lesions of the testis. By showing the differential diagnosis of each lesion, it offers clinicians vital support with diagnosis and treatment. The book is divided into seven main parts: genetic and developmental pathology of the testis; infertility; vascular pathology of the testis; inflammatory pathology; pathology of the rete testis and epididymis; pathology of the vaginal tunic and paratesticular structures; and a final part dealing with miscellanea. Each chapter includes carefully selected figures and a variety of diagrams highlighting the main characteristics of a specific lesion to facilitate its diagnosis.
Based on the authors' experience with hundreds of biopsies, surgical specimens and autopsies, the book presents material that has been gathered over the past 40 years, providing an essential tool for pathologists, urologists, andrologists and pediatricians who face diagnostic problems.
Premium Content
Login to buy access to this content.