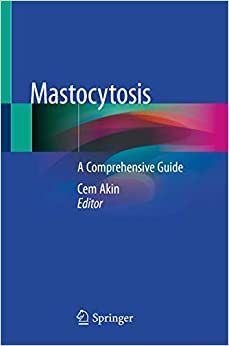 By Cem Akin
Paperback: 307 pages
Publisher: Springer; 1st ed. 2020 edition (December 1, 2019)
Language: English
ISBN-10: 3030278220
ISBN-13: 978-3030278229
This unique book offers an in-depth, best-practices guide to diagnosis and management of mastocytosis, a too-often underdiagnosed disease.
Mastocytosis: A Comprehensive Guide will open with a general overview and discussion of mast cell biology, addressing tryptase and other diagnostic markers in detail. Comprehensive diagnostic criteria and classification will follow, with special emphasis on commonly-seen related manifestations: skin disease, pediatric mastocytosis, gastrointestinal indicators, osteoporosis, anaphylaxis, venom and drug allergy, and pregnancy.
Mastocytosis will be an ideal resource for not only the allergist confronted with this condition, but for a growing, multi-disciplinary audience of hematologists, gastroenterologists, dermatologists, pediatricians, primary care providers and other clinicians who encounter this disease in their patients.
Premium Content
Login to buy access to this content.