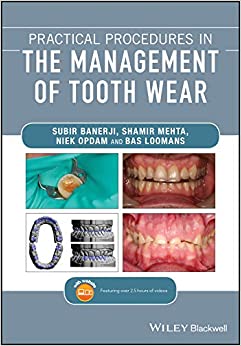 By Subir Banerji, Shamir B. Mehta, Niek Opdam
Paperback: 248 pages
Publisher: Wiley-Blackwell; 1 edition (February 10, 2020)
Language: English
ISBN-10: 1119389860
ISBN-13: 978-1119389866
New to the Practical Procedures in… series, Practical Procedures in the Management of Tooth Wear demonstrates a wide range of up to date clinical techniques in the practical management of tooth wear.
Presented in an accessible and user-friendly format, the book summarises the key points of each procedure, complete with clinical photographs. Chapters outline the principles and procedures for each technique, offer clinical tips and advice, and include full references. Topics include patient assessment and diagnosis, treatment planning for localised and generalised tooth wear, the partially dentate patient, tooth wear monitoring, management, and maintenance. Created by an internationally-recognised team with both clinical and academic expertise, this valuable resource:
Presents comprehensive, evidence-based coverage of the management of tooth wear
Examines the epidemiology and etiology of tooth wear
Covers practical aspects such as record taking, aesthetic evaluation, prevention, clinical occlusion and active monitoring
Includes access to high quality instructional videos to further supplement the text.
Practical Procedures in the Management of Tooth Wear is a unique source of information for general dental practitioners, senior undergraduate dental students, and postgraduates preparing for higher qualifications and training.
Premium Content
Login to buy access to this content.