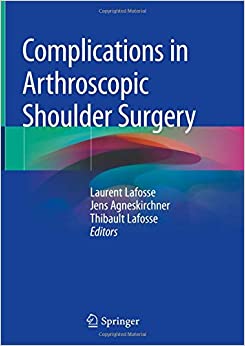 By Laurent Lafosse, Jens Agneskirchner, Thibault Lafosse
Hardcover: 148 pages
Publisher: Springer; 1st ed. 2020 edition (November 15, 2019)
Language: English
ISBN-10: 303024573X
ISBN-13: 978-3030245733
This practical guide offers a complete overview of the complications that can arise during and after arthroscopic surgery of the shoulder. Divided into four key sections, the book first focuses upon general problems and complications, followed by difficulties in general glenohumeral and subacromial space procedures, shoulder instability and rotator cuff lesions.
Complications in Arthroscopic Shoulder Surgery is written by a team of leading arthroscopic specialists and is a valuable resource for orthopaedic surgeons, and sports traumatologists who encounter these patients in their day-to-day clinical practice.
Premium Content
Login to buy access to this content.