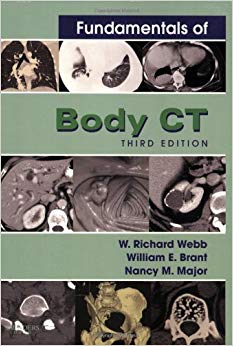 By W. Richard Webb, Wiliam E. Brant MD, Nancy M. Major MD
Paperback: 448 pages
Publisher: Saunders; 3 edition (October 17, 2005)
Language: English
ISBN-10: 1416000305
ISBN-13: 978-1416000303
A favorite of radiology residents and practitioners alike, Fundamentals of Body CT makes it remarkably simple to learn how to perform and interpret CT scans. The completely revised and updated 3rd Edition covers the most recent advances in CT technique, including the use of multislice CT to diagnose chest, abdominal, and musculoskeletal abnormalities, as well as the expanded role of 3D CT and CT angiography in clinical practice. The result is today's most accessible, affordable introduction to body CT!
Highlights the information essential for interpreting CTs and the salient points needed to make diagnoses.
Reviews how the anatomy of every body area appears on a CT scan.
Presents comprehensive guidance in a concise format.
Offers step-by-step instructions on how to perform all current CT techniques.
Provides a survey of major CT findings for a variety of common diseases―with an emphasis on those findings that help to differentiate one condition from another.
Features new chapters on CT of abdominal and pelvic trauma.
Presents updated abdominal chapters with recently reported findings and the latest pathological terminology.
Offers a revised musculoskeletal section that highlights abnormalities of the axial skeleton typically identified or diagnosed using body CT.
Includes increased coverage of high-resolution lung CT and solitary nodules.
Provides full-chapter coverage of hot topics such as (Ch. 4) Mediastinum – Lymph Node Abnormalities & Masses · (Ch. 6) Lung Disease · (Ch. 18) Trauma CT of the Abdomen & Pelvis · and (Ch. 19) CT Angiography of the Abdomen & Pelvis.
Premium Content
Login to buy access to this content.