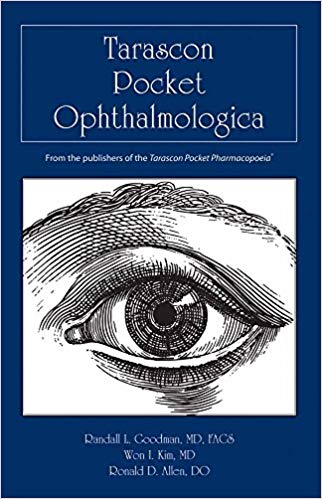 By Randall L. Goodman, Won I. Kim, Ronald D. Allen
Paperback: 142 pages
Publisher: Tarascon; 1 edition (December 22, 2011)
Language: English
ISBN-10: 0763786624
ISBN-13: 978-0763786625
The Tarascon Pocket Ophthalmologica is the first book of its kind – a quick reference guide for diagnosis and treatment of eye diseases, written specifically for health care providers without extensive ophthalmic training. Comprehensive and concise, Tarascon Pocket Ophthalmologica is organized by symptoms for quick review by busy clinicians to allow for accurate diagnosis and proper management at the point of care. Terms are explained and brief, concise reviews of eye anatomy, physiology, and pathophysiology are provided where needed.
The Tarascon Pocket Ophthalmologica is a great pocket-sized resource for primary care and emergency medicine physicians, nurses, physician assistants, students and other health care providers.
Premium Content
Login to buy access to this content.