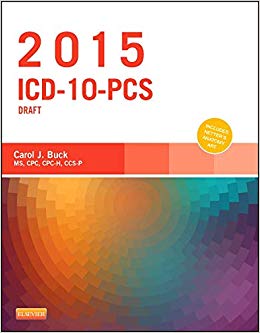 By Buck MS CPC CCS-P, Carol J.
Paperback: 872 pages
Publisher: Saunders; 1 edition (September 4, 2014)
Language: English
ISBN-10: 0323352553
ISBN-13: 978-0323352550
Code more efficiently and effectively with Carol J. Buck's 2015 ICD-10-PCS Draft Edition. Designed by coders for coders, this reference combines Netter's Anatomy illustrations and the Official Guidelines for Coding and Reporting. It simplifies procedure coding to ensure the most accurate billing and optimal reimbursement, providing 16 sections filled with tables to help you determine code selection. Clear explanations of A&P, pathology, and medical terminology make it easy to develop the knowledge needed to assign the appropriate ICD-10-PCS codes.
UNIQUE! Full-color Netter's anatomy art helps you understand complex anatomic information and how it may affect coding.
Complete coverage of ICD-10-PCS codes prepares you for the new code set replacing ICD-9-CM Volume 3.
At-a-glance Guide to the Updates lists all new, revised, and deleted codes, providing quick access to the annual changes.
ICD-10-PCS Official Guidelines for Coding and Reporting (OGCRs) are included for fast, easy access to the official coding rules.
American Hospital Association's Coding Clinic® citations provide reference information regarding official ICD-10-PCS coding advice that will enhance your understanding of specific codes.
Sex edits from the Definitions of Medicare Code Edits denote codes that are used only with patients of a specific sex.
Codingupdates.com companion website includes updates to the ICD-10 codes needed for procedure coding.
NEW! Updated 2015 Draft Code set includes the ICD-10 codes needed for procedure coding and reflects the June 2014 code updates.
NEW format is specifically designed to meet the needs of professional procedure coding.
NEW! Hospital Acquired Condition (HAC) symbol alerts you to procedures related to HACs as outlined in the MS-DRG v31.
NEW! Symbols for female- and male–only related procedures are included.
NEW! Symbols for Noncovered and Limited Coverage procedures are included, as outlined in the Definitions of Medicare Code Edits, v31.
Premium Content
Login to buy access to this content.