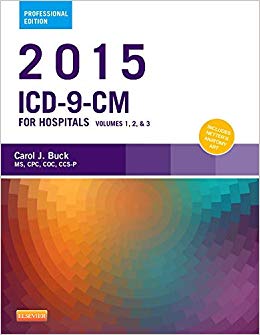 By Carol J. Buck MS CPC CCS-P
Series: Saunders Icd 9 Cm
Spiral-bound: 1328 pages
Publisher: Saunders; 1 edition (September 11, 2014)
Language: English
ISBN-10: 0323352502
ISBN-13: 978-0323352505
Code more efficiently and effectively with Carol J. Buck's 2015 ICD-9-CM for Hospitals: Volumes 1, 2 & 3, Professional Edition. Designed by coders for coders, this full-color reference combines Netter's Anatomy illustrations and the Official Guidelines for Coding and Reporting. Its format makes it easy to access the ICD-9-CM information you need to stay up to date and ensure the most accurate billing and optimal reimbursement in inpatient (hospital-based) and outpatient (physician office-based) coding settings. In addition, you can take this resource into your certification exams for enhanced testing support!
Coverage of all volumes of ICD-9-CM Volumes 1, 2 & 3 provides all codes for inpatient (hospital-based) and outpatient (physician office-based) coding.
Netter's Anatomy art is included in the front of the book and cross referenced within the Tabular List to help you understand complex anatomic information and how it may affect choosing codes.
Full-color design includes consistent color-coded symbols and text, providing easier access to codes and coding information.
Official Guidelines for Coding and Reporting (OGCRs) are listed in full and also integrated within the code set, providing fast, easy access to the official coding rules.
Symbols and highlights identify codes that may require special consideration before coding, including:

Unacceptable Principal Diagnosis
Use Additional Digit(s)
Includes and Excludes
Use Additional
Code First

Additional elements within specific codes provide you with useful hints, tips, and definitions to aid in understanding difficult terminology, diseases and conditions, or coding in a specific category.
More than 130 full-color illustrations provide visual orientation and enhance understand of specific coding situations.
Items are included throughout Diseases: Tabular List, Volume 1 to provide more information on common diseases and conditions to ensure that you code accurately.
Hospital Acquired Condition symbol notes specific conditions that will always be coded as hospital acquired.
Present on Admission symbol identifies the diseases that will always be coded as present on admission.
Manifestation code in the Volume 1 Disease Tabular helps you choose the appropriate sequence of codes by indicating the conditions for which it is important to record both the etiology and the manifestation of the disease.
Omit Codes and Code Also draw attention to government material needing special attention.
CC (Complications & Comorbidities) and MCC (Major CC) symbols identify codes associated with the presence of secondary diagnoses from MS-DRGs.
CC and MCC Exclusions following each CC or MCC code list the diagnosis codes that, when used as the principal diagnosis, will need special consideration from MS-DRGs.
Symbol for Non O.R. Procedure and Valid O.R. Procedure throughout Volume 3 Identifies procedures affected by DRG.
Codingupdates.com companion website includes the latest changes to the ICD coding system.
UPDATED Coding Clinic® citations provide official ICD-9-CM coding advice, ensuring accurate coding by identifying the year, quarter, and page number for information about specific codes in the AHA's Coding Clinic for ICD-9-CM.
UPDATED Exclusions and Present on Admission symbols ensure that you have the latest information needed for accurate coding.
UPDATED age edits from the Medicare Code Editor reflect the latest rules on checking diagnosis codes.
Premium Content
Login to buy access to this content.