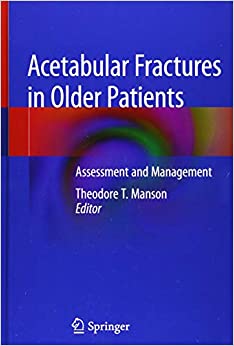 By Theodore T. Manson
Hardcover: 168 pages
Publisher: Springer; 1st ed. 2020 edition (December 3, 2019)
Language: English
ISBN-10: 3030251047
ISBN-13: 978-3030251048
Acetabular fractures in older adults are increasing in frequency and present unique challenges to the surgeons charged with their treatment. This text provides the clinician tools for deciding who is an operative candidate and reviews in detail the various surgical treatments available for management. Opening chapters discuss the scope of the problem, the functional status of older patients and the risks involved with any surgical approach. After a chapter discussing non-operative approaches to acetabular fractures, the remaining chapters present the various surgical techniques and include a critical assessment of the outcomes of these treatment choices. ORIF techniques for posterior and anterior wall and column fractures are followed by percutaneous treatment and total hip arthroplasty, both alone and in combination with ORIF.
Presenting the most current strategies for these increasingly common injuries, Acetabular Fractures in Older Patients is an excellent resource for all orthopedic and trauma surgeons.
Premium Content
Login to buy access to this content.