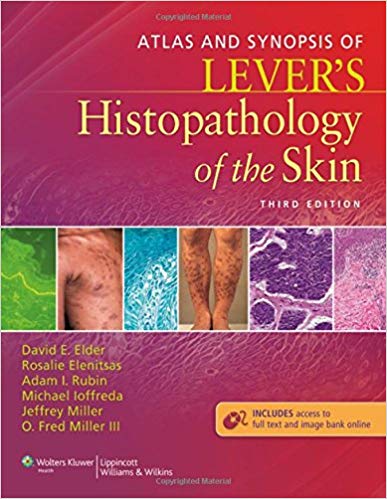 By David E Elder MB ChB FRCPA, Dr. Rosalie Elenitsas MD, Dr. Adam I. Rubin M.D.
Hardcover: 560 pages
Publisher: LWW; Third edition (September 25, 2012)
Language: English
ISBN-10: 9781451113440
ISBN-13: 978-1451113440
ASIN: 1451113447
Written for trainees as well as experienced dermatopathologists, this 3rd edition of the Atlas And Synopsis Of Lever's Histopathology Of The Skin provides a systematic approach to diagnosing skin diseases.
Classifying skin diseases by location, reaction patterns, and cell type if applicable, this new edition greatly improves the ability of the reader to recognize a wide variety of skin diseases and help in the development of differential diagnoses. Written to be a useful reference tool and teaching aid rather than a comprehensive textbook, this guide will aid dermatopathologists of all experience levels in the understanding of cutaneous reaction patterns and diagnosis.
FEATURES
• Expanded table of contents — key to the skin disease classification system
• Sections are color-coded for ease of reference throughout book
• New tables compare "lookalike" diseases
• Over 1600 color images
• Each disease illustrated with multiple color photomicrographs
• Online image bank
Premium Content
Login to buy access to this content.