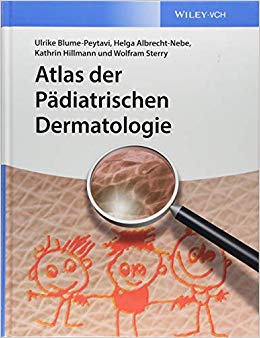 By Ulrike Blume-Peytavi, Helga Albrecht-Nebe, Kathrin Hillmann
Hardcover: 655 pages
Publisher: Wiley-Blackwell; 1 edition (November 5, 2018)
Language: German
ISBN-10: 3527337741
ISBN-13: 978-3527337743
Dieser Atlas verbindet als erster die beiden wichtigen Themengebiete der Pädiatrie und Dermatologie.
Da sich das Erscheinungsbild von Hauterkrankungen in der Kindheit stark von dem im Erwachsenenalter unterscheiden kann, stellt dieses einzigartige Nachschlagewerk eine wichtige Quelle sowohl für Dermatologen als auch Pädiater dar. Der Schwerpunkt der Diagnostik von Hauterkrankungen beim Kind liegt insbesondere auf der morphologischen Befunderhebung und ihrer lokalisations- und altersabhängigen Manifestation. Ist die exakte klinische Beurteilung und differenzialdiagnostische Abgrenzung erfolgt, kann sie dem Kind häufig invasive Eingriffe zur Diagnosefindung ersparen.
Hier setzt der vorliegende Atlas an. Jahrzehntelange klinische Erfahrung der drei Autoren findet in diesem Atlas ihren Ausdruck. Er lebt von seinen Abbildungen, die ihn zu einem einzigartigen Nachschlagewerk machen, das schnell den diagnostischen Blick trainiert und schult. Exzellent und umfangreich bebildert mit genauen Befundbeschreibungen und ausführlichen Differenzialdiagnosen versehen, führt der Atlas schnell von den Hauptmerkmalen, über diagnostische Kriterien, sicher und einfach zur Diagnose und sollte somit in keiner Praxis fehlen.
Premium Content
Login to buy access to this content.