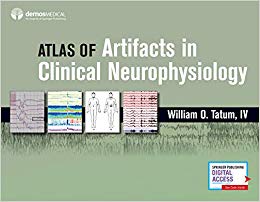 By William Tatum IV DO
Hardcover: 435 pages
Publisher: Demos Medical; 1 edition (November 21, 2018)
Language: English
ISBN-10: 0826169341
ISBN-13: 978-0826169341
This atlas serves as a comprehensive working reference for a wide range of clinicians practicing in the field of clinical neurophysiology, including adult and pediatric neurologists, epileptologists, neurocritical care specialists, and electroneurodiagnostic technologists. Covering EEG, EMG, MEG, evoked potentials, sleep and autonomic studies, and ICU, critical care, and intraoperative monitoring, expert authors share examples of common and novel artifacts and highlight signature features to help practitioners recognize patterns and make accurate distinctions. This visual compendium of information in atlas format addresses the artifact in all areas of clinical neurophysiology and highlights the traps and pitfalls that can taint studies and lead to misdiagnosis if not properly identified.
Atlas of Artifacts in Clinical Neurophysiology provides full-page examples of waveforms and recordings to enhance appreciation of the nuances involved in distinguishing artifacts from neurological findings that require intervention. With the most up-to-date information available on artifacts present during procedures in both adult and pediatric patients, this book provides readers with an in-depth understanding of artifact interpretation that is essential to any clinician working in the field of clinical neurophysiology given the ubiquitous nature of artifact during electrophysiological recording.
Key Features:
The only dedicated reference on artifacts in all areas of clinical neurophysiologic testing
Large-format examples of both common and unusual artifacts encountered in each procedure category
Up-to-date text in each chapter provides greater depth of explanation
Draws on the expertise and clinical wisdom of leading practitioners to develop mastery in recognizing artifacts and avoiding diagnostic pitfalls
Includes access to the digital ebook and 19 videos
Premium Content
Login to buy access to this content.