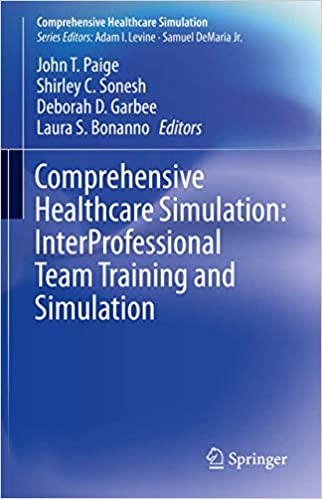 By John T. Paige, Shirley C. Sonesh, Deborah D. Garbee
Series: Comprehensive Healthcare Simulation
Paperback: 340 pages
Publisher: Springer; 1st ed. 2020 edition (February 1, 2020)
Language: English
ISBN-10: 3030288447
ISBN-13: 978-3030288440
This book focuses on InterProfessional (IP) Team Training and Simulation, from basic concepts to the practical application of IP in different healthcare settings. It thoroughly and comprehensively covers the role of simulation in healthcare, human factors in healthcare, challenges to conducting simulation-based IP, logistics, and applications of simulation-based IP in clinical practice. Supplemented by high-quality figures and tables, readers are introduced to the different simulation modalities and technologies employed in IP team training and are guided on the use of simulation within IP teams.
Part of the authoritative Comprehensive Healthcare Simulation Series, InterProfessional Team Training and Simulation can be used in training for a variety of learners, including medical students, residents, practicing physicians, nurses, and health-related professionals.
Premium Content
Login to buy access to this content.