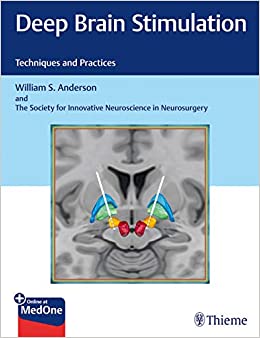 By Visit Amazon's William Anderson Page, search results, Learn about Author Central, William Anderson, The Society for Innovative Neuroscience
Hardcover: 190 pages
Publisher: Thieme; 1 edition (May 6, 2019)
Language: English
ISBN-10: 1626237972
ISBN-13: 978-1626237971
The one-stop resource on deep brain stimulation for functional neurosurgeons!
Deep brain stimulation (DBS) is used to modulate dysfunctional circuits in the brain with stimulation pulses applied to specific target areas of the brain. Globally, DBS procedures have been most commonly performed for Parkinson's disease and essential tremor, but there are now new and growing research efforts studying DBS for psychiatric disorders and epilepsy.
Deep Brain Stimulation: Techniques and Practices written by the Society for Innovative Neuroscience in Neurosurgery along with Dr. William S. Anderson and distinguished experts presents the latest DBS approaches. The book begins with a history of DBS, general frame-based techniques, patient selection primarily for movement disorders, multidisciplinary collaboration, and ethical considerations. Subsequent chapters detail diverse technologies and disease-specific treatment for Parkinson's disease, essential tremor, dystonia, OCD, epilepsy, major depression, Tourette syndrome, emerging psychiatric indications, and pediatric applications.
Key highlights
Lead placement techniques utilizing currently available customized platforms and robotics
Microelectrode recording and image-based direct targeting with MRI and CT to enhance lead placement
Lesioning methods including radiofrequency, and MR-guided focused ultrasound
Discussion of recent innovations in tractography to delineate white matter tracts in the brain and closed loop stimulation
DBS has helped thousands of patients with intractable conditions, allowing for a programmable therapy with durable treatment effect. This remarkable guide provides the essentials for functional neurosurgeons to pursue intraoperative research opportunities in this growing subspecialty and incorporate DBS into clinical practice.
This book includes complimentary access to a digital copy on https://medone.thieme.com.
Premium Content
Login to buy access to this content.