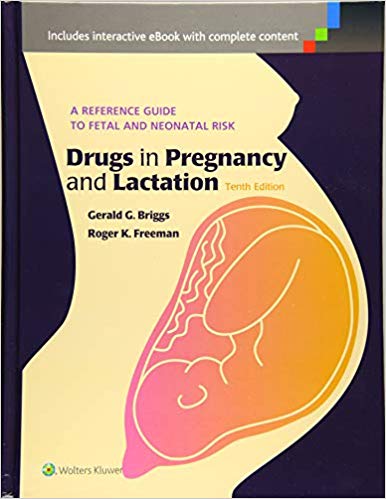 By Briggs BPharm FCCP, Gerald G., Freeman MD, Roger K.
Series: Drugs in Pregnancy and Lactation
Hardcover: 1600 pages
Publisher: LWW; Tenth edition (August 19, 2014)
Language: English
ISBN-10: 1451190824
ISBN-13: 978-1451190823
Know the risk versus the benefit, before you prescribe: the authoritative, updated 10th edition of
Drugs in Pregnancy and Lactation
remains the leading drug reference for treatment of pregnant or breastfeeding patients. Listing nearly 1,200 commonly prescribed drugs taken during pregnancy and lactation, each detailed, in-depth drug monograph offers a summary of known or possible effects on mother, embryo, fetus and nursing infant.
Features:
Enhanced eBook with searchable text and frequent updates integrating important new evidenceNEW over 120 new drugs including drug reviews
NEW drugs contraindicated during breastfeeding and pregnancy
Each monograph contains: generic name (in US); risk factor; pharmacologic class; fetal risk summary; breastfeeding summary; and updated references
List of drugs known to cause human developmental toxicity
Now with the print edition, enjoy the bundled interactive eBook edition, offering tablet, smartphone, or online access to:
Complete content with enhanced navigation
A powerful search tool that pulls results from content in the book, your notes, and even the web
Cross-linked pages, references, and more for easy navigation
Highlighting tool for easier reference of key content throughout the text
Ability to take and share notes with friends and colleagues
Quick reference tabbing to save your favorite content for future use
Premium Content
Login to buy access to this content.