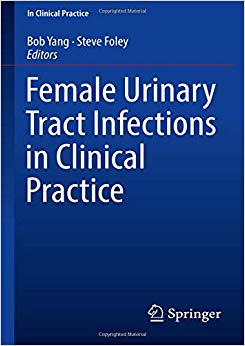 By Bob Yang, Steve Foley
Series: In Clinical Practice
Paperback: 108 pages
Publisher: Springer; 1st ed. 2020 edition (November 13, 2019)
Language: English
ISBN-10: 3030279081
ISBN-13: 978-3030279080
This book comprehensively covers the latest consensus in the diagnosis and management of patients with recurrent Urinary Tract Infections (UTIs). It features a broad overview of the basic science and the spread of antibiotic resistance in UTIs. Guidelines are provided on the recommended approaches for using antibiotics including dosage, duration, resistance rates for a range of antibiotics, and available methods for combating antibiotic resistance. Further topics covered include prophylaxis, including conservative lifestyle modifications as well as preventative therapies.
Female Urinary Tract Infections in Clinical Practice summarises the basic science, use of antibiotics, and preventative strategies for UTIs and represents a timely and valuable resource for all practising and trainee medical professionals who encounter these patients in their practice.
Premium Content
Login to buy access to this content.