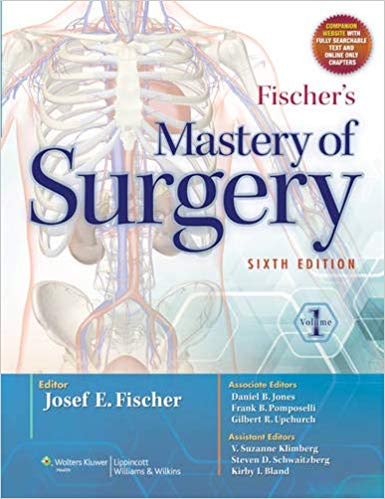 By Fischer MD, Josef E., Jones MD MS, Daniel B., Pomposelli MD, Frank B.
Series: Mastery of Surgery
Hardcover: 2688 pages
Publisher: LWW; Sixth edition (December 28, 2011)
Language: English
ISBN-10: 1608317404
ISBN-13: 978-1608317400
Emphasizing both the science and craft of surgery,Fischer's Mastery of Surgery,Sixth Edition,embraces a scope consistent with the broad training of a general surgeon, providing extensive coverage of vascular surgery as well as of common thoracic, breast, esophageal, endocrine, colorectal, gastric, pancreatic, liver, and biliary procedures. Organized for ease of use, each procedural chapter reviews the essentials of diagnosis, anatomy, and pre-operative planning, but focuses most heavily on step-by-step depictions and descriptions of procedures. Each chapter concludes, as is traditional for this classic text, with an editorial commentary that puts the chapter material in a broad context and provides helpful critiques of the most recent literature.
The path to surgical mastery begins here!• Step-by-step guidancetakes readers through each procedure, with tips and cautions from leading surgeons.• More than 3,400 illustrationsoffer a surgeon's-eye-view of the most advanced approaches.• Over 450 renowned contributorsshare their surgical expertise with readers.• Focus on evidence-based surgeryreveals the science behind each approach.• A companion websiteincludes the fully searchable text and exclusive web-only chapters not found in the text.
NEW in the Sixth Edition…• Over a dozen new chaptersaddress endovascular treatment of varicose veins, fasciotomy, minimally invasive parathyroidectomy, reconstruction of the chest wall, thoracic aortic transaction, vascular injury to extremities.• Fully updated materialdetails the latest developments in vascular procedures, including both open and endovascular procedures. •New full-color designthroughout the text, including many new color images, help readers visualize and remember key anatomic features and surgical techniques.
Premium Content
Login to buy access to this content.