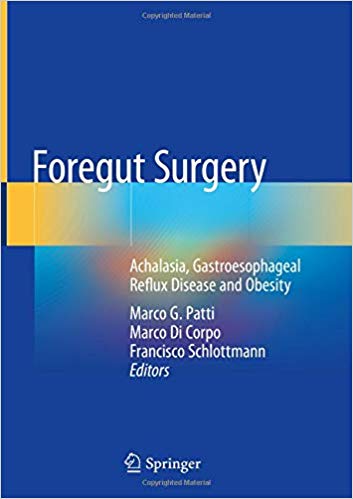 By Marco G. Patti, Marco Di Corpo, Francisco Schlottmann
Hardcover: 317 pages
Publisher: Springer; 1st ed. 2020 edition (November 22, 2019)
Language: English
ISBN-10: 3030275914
ISBN-13: 978-3030275914
​This book provides a state-of-the-art description of the clinical evaluation, diagnosis, management, and treatment of achalasia, gastroesophageal reflux disease, paraesophageal hernia, and morbid obesity. The prevalence of such diseases is increasing worldwide due to higher awareness and improved diagnosis rate. The text is divided in three different parts, each covering detailed surgical techniques of the main foregut operations: achalasia, gastroesophageal reflux disease (GERD), and obesity. Written by experts in the field, chapters focus on the preoperative work-up, indications, and technical aspects of each operation.
Foregut Surgery proves to be an irreplaceable resource for surgeons, gastroenterologists, medical students, and surgical residents that care for patients with reflux, achalasia, and morbid obesity.
Premium Content
Login to buy access to this content.