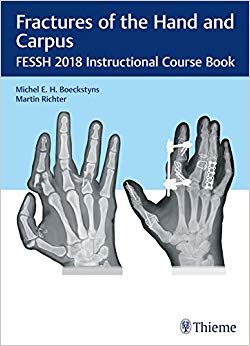 By Michel E.H. Boeckstyns, Martin Richter
Hardcover: 290 pages
Publisher: Thieme; 1 edition (June 13, 2018)
Language: English
ISBN-10: 3132417203
ISBN-13: 978-3132417205
Hand fractures account for millions of emergency room visits annually. The extraordinary importance of the hand in so many activities of daily living necessitates inordinate surgical competence in repairing fractures, in order to preserve the vast range of motion and functionality of this highly complex structure.
Key Features:
General overview chapters covering anatomy, epidemiology, fixation types, role of arthroscopy, and strategies for compound hand injuries (soft tissue, flaps, etc.)
Contributions from a large number of renowned subspecialists
Hand fractures in special patient groups: athletes, musicians, patients with a paralytic extremity
Specific chapters covering the full range of fracture types and locations, including diaphyseal and intra-articular fractures of the phalanges and metacarpals, bony avulsions, fracture dislocations, and carpal bone fractures
Complications and their treatment: infection, malunion, hardware failures, and more
Evidence-based treatment suggestions, with the goal of restoring anatomic alignment and functional range of motion
Hundreds of high-quality radiographs and color photographs
Ideal for all orthopaedic and plastic surgeons in training, and of benefit to experienced surgeons as well, Fractures of the Hand and Carpus is a complete introduction to evidence-based techniques in hand surgery.
Premium Content
Login to buy access to this content.