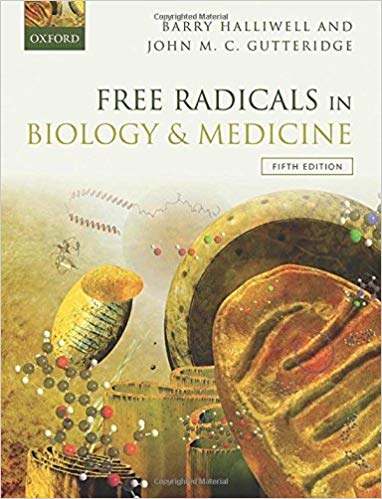 By Barry Halliwell, John M. C. Gutteridge
Hardcover: 896 pages
Publisher: Oxford University Press; 5 edition (October 20, 2015)
Language: English
ISBN-10: 0198717474
ISBN-13: 978-0198717478
Free Radicals in Biology and Medicine has become a classic text in the field of free radical and antioxidant research. Now in its fifth edition, the book has been comprehensively rewritten and updated whilst maintaining the clarity of its predecessors. Two new chapters discuss 'in vivo' and 'dietary' antioxidants, the first emphasising the role of peroxiredoxins and integrated defence mechanisms which allow useful roles for ROS, and the second containing new information on the role of fruits, vegetables, and vitamins in health and disease. This new edition also contains expanded coverage of the mechanisms of oxidative damage to lipids, DNA, and proteins (and the repair of such damage), and the roles played by reactive species in signal transduction, cell survival, death, human reproduction, defence mechanisms of animals and plants against pathogens, and other important biological events. The methodologies available to measure reactive species and oxidative damage (and their potential pitfalls) have been fully updated, as have the topics of phagocyte ROS production, NADPH oxidase enzymes, and toxicology. There is a detailed and critical evaluation of the role of free radicals and other reactive species in human diseases, especially cancer, cardiovascular, chronic inflammatory and neurodegenerative diseases. New aspects of ageing are discussed in the context of the free radical theory of ageing.
This book is recommended as a comprehensive introduction to the field for students, educators, clinicians, and researchers. It will also be an invaluable companion to all those interested in the role of free radicals in the life and biomedical sciences.
Premium Content
Login to buy access to this content.