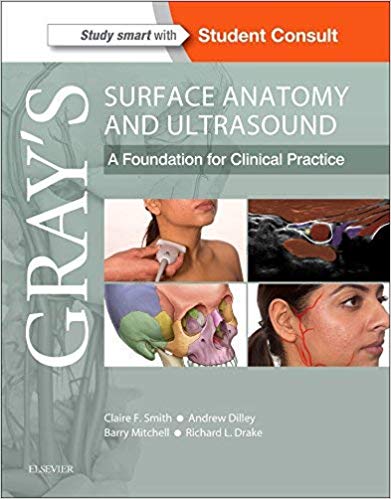 By Claire France Smith BSc PGCE PhD, Andrew Dilley BSc PhD, Barry Mitchell BSc MSc PhD FIBMS FIBiol
Paperback: 216 pages
Publisher: Elsevier; 1 edition (September 13, 2017)
Language: English
ISBN-10: 0702070181
ISBN-13: 978-0702070181
A concise, superbly illustrated (print + electronic) textbook that brings together a reliable, clear and up to date guide to surface anatomy and its underlying gross anatomy, combined with a practical application of ultrasound and other imaging modalities.
A thorough understanding of surface anatomy remains a critical part of clinical practice, but with improved imaging technology, portable ultrasound is also fast becoming integral to routine clinical examination and effective diagnosis.
This unique new text combines these two essential approaches to effectively understanding clinical anatomy and reflects latest approaches within modern medical curricula. It is tailored specifically to the needs of medical students and doctors in training and will also prove invaluable to the wide range of allied health students and professionals who need a clear understanding of visible and palpable anatomy combined with anatomy as seen on ultrasound.
Concise text and high quality illustrations, photographs, CT, MRI and ultrasound scans provide a clear, integrated understanding of the anatomical basis for modern clinical practice
Highly accessible and at a level appropriate for medical students and a wide range of allied health students and professionals
Reflects current curriculum trend of heavily utilizing living anatomy and ultrasound to learn anatomy
Supplementary video content showing live ultrasound scans and guided areas of surface anatomy to bring content to life and reflect current teaching and clinical settings
An international advisory panel appointed to add expertise and ensure relevance to the variety of medical and allied health markets
Inclusion of latest ultrasound image modalities
Designed to complement and enhance the highly successful Gray's family of texts/atlases although also effective as a stand-alone or alongside other established anatomy resources
Premium Content
Login to buy access to this content.