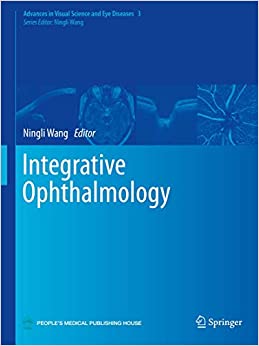 By Ningli Wang
Series: Advances in Visual Science and Eye Diseases (Book 3)
Hardcover: 254 pages
Publisher: Springer; 1st ed. 2020 edition (September 5, 2019)
Language: English
ISBN-10: 9811378959
ISBN-13: 978-9811378959
With the development of nature science and industrial technology, more and more patients are benefitting from the rapid progress in ophthalmology, as the use of new medicine and delicate surgical therapy has ensured them the chance to restore their sight. However, some problems have come up during its development, of which the most serious one is the limitation of the ophthalmology. Eyes are not isolated organs, they are connected to our body, and thus, the general status of our body will affect the eyes' function. Therefore, it is of great importance that the ophthalmologists see the big picture while dealing with the clinical problems.
Based on the above observations, we put forward the concept of Integrative Ophthalmology, and describe the ophthalmology related medical situations that are prone to be neglected in clinical practice in a bid to increase the awareness of doctors from all fields that a holistic view should be adopted in clinical practice, and it is the patients that we are treating rather than the disease. There are 9 parts in the book, containing the concept of integrative ophthalmology, intraocular and intracranial pressure gradient related diseases,and the relationship between the different general status and eye disorders. We do believe that the integrative ophthalmology is the key to the development of ophthalmology and hope readers can benefit from this book.
Premium Content
Login to buy access to this content.