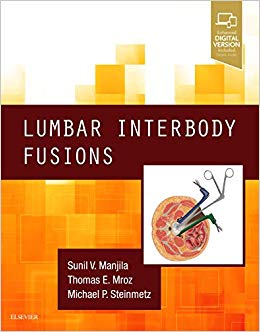 By Sunil V Manjila MD, Thomas Mroz MD, Michael P Steinmetz MD
Hardcover: 240 pages
Publisher: Elsevier; 1 edition (November 14, 2018)
Language: English
ISBN-10: 0323476635
ISBN-13: 978-0323476638
Authored by experienced surgeons and key innovators in the fast-moving field of LIF surgery, Lumbar Interbody Fusions provides an in-depth, focused approach to recent advances in surgical techniques and technology. Covering both minimally invasive and open procedures, this comprehensive reference provides step-by-step details for proven techniques, including extreme lateral, oblique lateral, and direct lateral approaches; intertransverse approaches; axial approaches; and endoscopic approaches.
Focuses on the technical nuances, pearls and pitfalls of each procedure, as well as complication avoidance and management.
Features high-quality radiographs and intraoperative images for superb visual guidance throughout.
Covers topics that have as-yet unsettled surgical management, such as thoracolumbar and lumbosacral overlap diseases.
Includes a concise review of evidence-based spine literature at the end of each procedural chapter.
Features chapters on adjunct instrumentation such as pedicle screw and facet fixation, as well as graft selection and revision surgeries.
Provides real-time guidance in video: Open Transforaminal Lumbar Interbody Fusion, MIDLIF Operative Technique, L5-S1 OLIF, Aspen Surgical Technique, and many more.
Enhanced eBook version included with purchase. Your enhanced eBook allows you to access all of the text, figures, and references from the book on a variety of devices.
Premium Content
Login to buy access to this content.