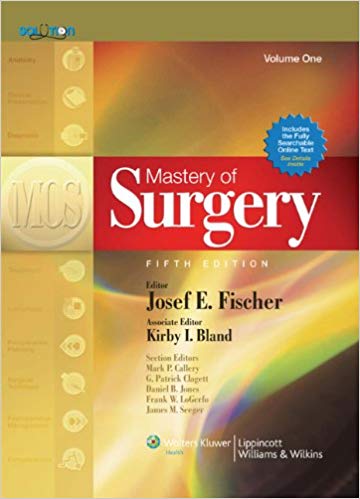 By Josef E. Fischer, Bland MD, Kirby I.
Hardcover: 2592 pages
Publisher: LWW; Fifth edition (December 18, 2006)
Language: English
ISBN-10: 078177165X
ISBN-13: 978-0781771658
Mastery of Surgery is a unique text/atlas that presents detailed, step-by-step depictions and descriptions of surgical procedures and more than 3,300 illustrations. This authoritative two-volume reference represents the core procedural knowledge taught in most surgical residency programs.
This edition has new procedures in bariatric surgery, hernia surgery, and vascular surgery, and includes a large number of international contributors. Editorial comments at the end of each chapter provide additional insight. No comparable text offers this combination of comprehensive coverage and authoritative commentary.
The full content of this edition is available online along with additional surgery guidance not found in the book. You'll have a fast, flexible multimedia library at your service.
Premium Content
Login to buy access to this content.