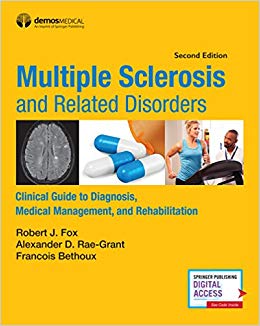 By Fox MD, Robert, Rae-Grant MD, Alexander, Bethoux MD, Francois
Paperback: 424 pages
Publisher: Demos Medical; 2 edition (August 10, 2018)
Language: English
ISBN-10: 082612593X
ISBN-13: 978-0826125934
Revised and updated second edition of Multiple Sclerosis and Related Disorders: Clinical Guide to Diagnosis, Medical Management, and Rehabilitation, the only comprehensive but practical source of core information on multiple sclerosis and other demyelinating disorders. Intended as a ready reference for clinicians who provide ongoing care to MS patients, this book combines evidence-based science with experience-based guidance to present current standards and management protocols from leading MS centers.
Beginning with the scientific underpinnings of MS for clinicians, the book proceeds through diagnosis, including initial symptoms, criteria and classification, imaging, and differential diagnosis, and onto approved treatments for the various MS types and emerging therapies. Later parts of the book discuss symptom management and rehabilitation with chapters focusing on specific side effects, along with considerations for special populations, comorbidities, societal and family issues, and related autoimmune disorders that are often mistaken for MS.
Throughout, chapters include lists of Key Points both for clinicians and for patients and families, and management pearls are boxed for quick reference and clinical utility. Illustrations, tables, algorithms, assessment scales, and up-to-date MRI imaging enrich the text, making this a wide-ranging clinical reference for all members of the MS care team.
New to the Second Edition:
Includes summary recommendations from new AAN practice guidelines for use of DMTs
All chapters updated to reflect the latest literature and diagnostic criteria
Five entirely new chapters added to expand coverage of treatment, rehabilitation and symptom management, and special issues related to MS
Treatment section has been completely revised to better capture current approaches to disease modifying therapies, with separate chapters devoted to injection and oral therapies, infusion therapies, and treatments for progressive forms of MS
Related diseases section significantly expanded to include transverse myelitis, autoimmune encephalitis, and neurosarcoidosis
Premium Content
Login to buy access to this content.