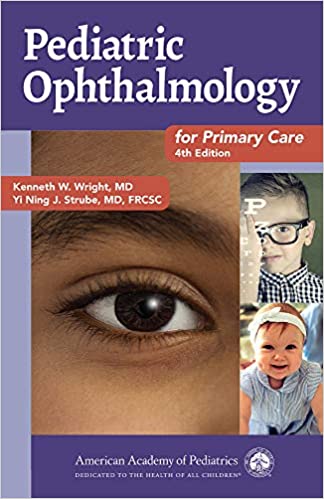 By Kenneth W. Wright MD, Yi Ning J. Strube MD
Paperback: 374 pages
Publisher: American Academy of Pediatrics; Fourth edition (February 15, 2019)
Language: English
ISBN-10: 1610022297
ISBN-13: 978-1610022293
Completely updated and revised, the fourth edition provides primary care physicians with must-know information on eye examinations, eye disorders, vision screening, strabismus, dyslexia, ocular trauma, genetic syndromes, and all pediatric-specific eye issues likely to be encountered in primary care.
Includes more than 200 images to aid in problem-solving.
TOPICS INCLUDE
Ocular anatomy and physiology
Pupil and iris abnormalities
Pediatric "pinkeye"
Corneal abnormalities
Dyslexia and learning disabilities
Leukocoria: cataracts, retinal tumors, and Coats disease
Ocular torticollis
And more…
KEY FEATURES
All chapters have been updated and revised, including updated sections on optic nerve hypoplasia, idiopathic intracranial hypertension, juvenile idiopathic arthritis, lymphangiomas, retinopathy of prematurity, retinoblastoma, Aicardi syndrome, and Niemann-Pick disease.
Updated key references, figures, and tables.
Updates in the field of ocular genetics.
Updated treatment options, including for capillary hemangioma, for keratoconus, and gene therapy.
New topics: gyrate atrophy, iris cysts, pilomatrixoma, pyogenic granulomas, cerebrotendinous, and xanthomatosis.
Premium Content
Login to buy access to this content.