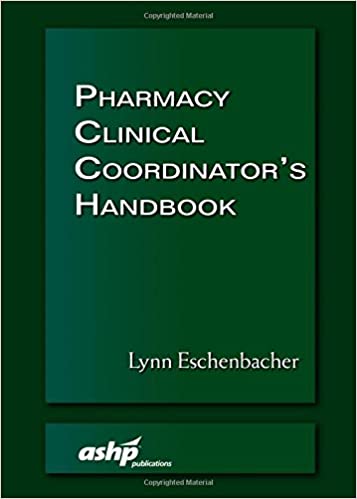 By Ms. Lynn Eschenbacher PharmD MBA
Paperback: 250 pages
Publisher: ASHP; 1 edition (March 18, 2016)
Language: English
ISBN-10: 9781585284788
ISBN-13: 978-1585284788
ASIN: 1585284785
As a pharmacy clinical coordinator or clinical manager, ensuring optimal patient outcomes is only part of your job. You must also manage your staff and be an expert in human resources, operations, logistics, finance, safety, and risk management.
Whether you're a new clinical coordinator or have been on the job for some time and want to enhance your skills, you'll find tools, tips, and practical guidance to the all the technical, management, and leadership challenges of your position in ASHP's new
Pharmacy Clinical Coordinator's Handbook.
Edited by Lynn Eschenbacher, with contributions from 18 experts in the field, this unique handbook provides practical operational and career advice for all levels of experience.
Inside you'll get real-life examples, sample forms, policies, procedures, checklists, and more for every aspect of your practice, including formulary management, communications, strategic planning, and staff development. Plus, tables and figures for everything from delegation flow and budget schedules to nonformulary drug requests and the SAFE Tool Scoring System.
Get the advice, support, and tools you need to answer essential questions facing any clinical coordinator or manager:
What are the key organizational relationships I need to develop to be successful?
How can I best demonstrate the value that pharmacy provides to the healthcare team?
How can I build and inspire a team to achieve high-quality patient outcomes?
With multiple responsibilities and multiple priorities, how do I get started?
What can I do to advance clinical pharmacy practice?
As a clinical coordinator or clinical manager you are in a position to positively impact the lives of both your staff and the patients you serve every day.With the Pharmacy Clinical Coordinators Handbook you can now develop the vision and strategy you need to succeed in this essential and demanding position.


Premium Content
Login to buy access to this content.