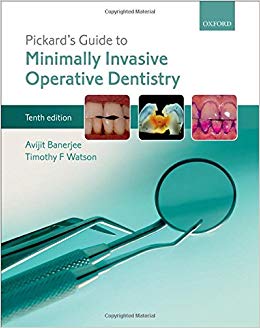 By Avit Banerjee, Timothy F. Watson
Paperback: 208 pages
Publisher: Oxford University Press; 10 edition (August 18, 2015)
Language: English
ISBN-10: 9780198712091
ISBN-13: 978-0198712091
ASIN: 019871209X
An ideal introduction to the theory and practical aspects of conservative dentistry, the tenth edition of
Pickards' Guide to Minimally Invasive Operative Dentistry
is a must-have text for all dental students, new graduates and oral healthcare professionals alike. Written in an easy to understand and concise style, the authors introduce the essentials of dental disease before outlining how to collect patient information clinically in order to detect, diagnose, plan and deliver care.
Exploring key topics such as disease prevention and control, the principles of minimally invasive operative dentistry, contemporary restorative materials and procedures, this completely up-to-date revised edition integrates a thorough academic grounding for degree examination with an essential preparation for clinical practice for the whole oral healthcare team. Illustrated with step-by-step colour photos, common clinical procedures are clearly set out and labelled for beginners to learn. The tenth edition has been updated to reflect the latest evidence based guidelines for preventitative management and there is a focus on maintaining existing restorations and follow up/long term care.
Premium Content
Login to buy access to this content.