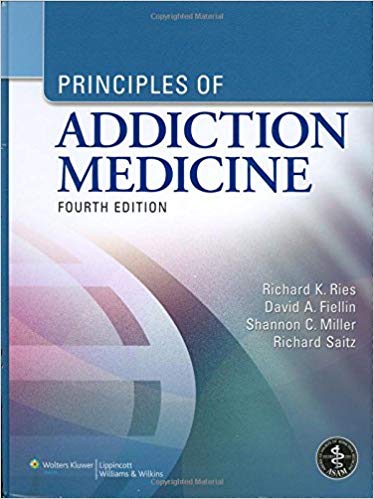 By Richard K. Ries M.D, Dr. Shannon C. Miller MD FASAM DFAPA, Dr. David A. Fiellin MD
Hardcover: 1408 pages
Publisher: LWW; Fourth edition (April 21, 2009)
Language: English
ISBN-10: 0781774772
ISBN-13: 978-0781774772
This respected text from the American Society of Addiction Medicine is valuable for all physicians and mental-health personnel who specialize in addiction medicine and who treat patients with addiction disorders. The chapters blend scientific principles underlying addiction with the practical essentials of clinical addiction medicine. Many of the contributors are affiliated with leading government agencies that study addiction and its science, such as the National Institute on Alcohol Abuse and Alcoholism and the National Institute on Drug Abuse. The book will appeal to a wide and interdisciplinary range of professionals, especially those with interest or duties relating to addiction-related disorders, and in particular physicians seeking certification status via either the American Board of Addiction Medicine or the American Board of Psychiatry and Neurology.
A companion Website will offer the fully searchable text.
Premium Content
Login to buy access to this content.