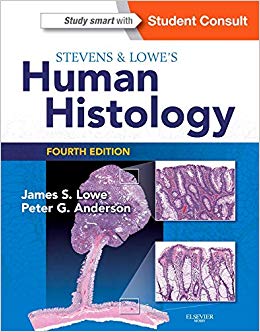 By Lowe BMedSci BMBS DM FRCPath, James S., Anderson DVM PhD, Peter G.
Series: HUMAN HISTOLOGY (STEVENS)
Paperback: 448 pages
Publisher: Mosby; 4 edition (September 26, 2014)
Language: English
ISBN-10: 0723435022
ISBN-13: 978-0723435020
"A well produced book that our trainees and students like." By PathLab.org, March 2015
Learn from an easy-to-read writing style and well-designed, full-color layout to present of all histology's need-to-know content.
Conveniently access important information through a design that sets off the key laboratory, clinical, and high-level scientific material in boxes.
Take advantage of an increased amount of clinical content and photos.
Master the basics of the field with an enhanced focus on cell biology.
Quickly review important information with reviews available at the end of each chapter and online, Key Facts boxes throughout the chapters, MCQs in the text, plus 180 additional review questions online.
Easily visualize complex procedures and concepts with nearly 900 illustrations, photos, and graphics.
Student Consult eBook version included with purchase. This enhanced eBook experience allows you to search all of the text, figures, references, and videos from the book on a variety of devices.
Premium Content
Login to buy access to this content.