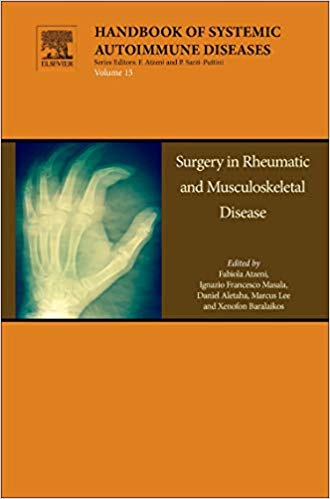 By Fabiola Atzeni, Ignacio Francesco Masala, Daniel Aletaha
Series: Handbook of Systemic Autoimmune Diseases (Book 15)
Hardcover: 228 pages
Publisher: Elsevier; 1 edition (April 11, 2018)
Language: English
ISBN-10: 0444638873
ISBN-13: 978-0444638878
Surgery in Systemic Autoimmune Disease, Volume 15, describes the state-of-the-art of the use of surgery in treating the most common systemic autoimmune diseases (SADS). The volume consists of an introductory chapter concerning the impact of surgery on SADs, follow by eight chapters describing the use of surgery in the treatment of specific diseases in various areas (cardiology, gastroenterology, orthopedics, neurology. etc.) and the possible difficulties and complications. The final five chapters deal with the possible complications arising during the course of biological and non-biological treatment, also providing recommendation concerning their management.
International in scope, the list of more than 20 contributors from Europa and America reads like a who's who of clinical researchers in the field.
Written by leading international clinical/surgical and scientific experts on surgical problems in SADs
Provides a practical guide to the safer use of surgery in patients with autoimmune diseases
Includes a number of problems and recommendations that cannot be found in other books
Designed as a 'guide to clinical practice' for surgical interventions required by patients with SADs
Gives a comprehensive review of the available surgical options
Premium Content
Login to buy access to this content.