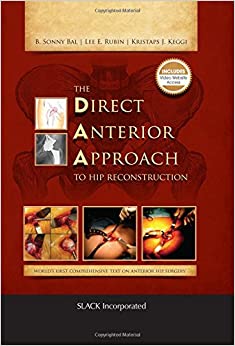 By B. Sonny Bal MD JD, Lee E Rubin MD, Kristaps Keggi MD
Hardcover: 480 pages
Publisher: Slack Incorporated; 1 edition (July 15, 2016)
Language: English
ISBN-10: 1630910279
ISBN-13: 978-1630910273
Total hip arthroplasty has steadily evolved to improve patient outcomes and safety. One innovation has been to incorporate less invasive surgical methods, such as the direct anterior surgical approach.
The Direct Anterior Approach to Hip Reconstruction
is a comprehensive reference text that addresses contemporary surgeon interest in innovation and less invasive surgery. This resource will help with introductory learning, intermediate technical development, and advanced revision total hip skills using the direct anterior technique. Accordingly, the text is structured into three sections as follows:
Basic concepts: Surgical hip anatomy, patient selection, and placement of single, multiple, and extensile incisions for primary total hip arthroplasty
Intermediate concepts: Adoption of imaging and navigation technologies, use of traction tables to enhance positioning, and presentation of unique instruments and custom devices that have evolved specifically for the direct anterior approach
Advanced concepts: Using the direct anterior approach for bearing and liner exchanges, acetabular revisions, femoral component revisions, and both component revisions.


Drs. B. Sonny Bal, Lee E. Rubin, and Kristaps J. Keggi have combined their unique perspectives, along with those of a renowned group of North American and European experts in the anterior hip reconstruction surgery to create this reference. Dr. Keggi was among the first to recognize the benefits of the direct anterior approach in hip reconstruction; this text is based on his 50-plus years of experience as a clinician and pioneer surgeon.

The Direct Anterior Approach to Hip Reconstruction provides a stepwise learning process for surgeons interested in mastering total hip arthroplasty using the direct anterior approach, with detailed chapters and video instruction, contributed by a distinguished group of international experts in the field.

The chapters focus on using the direct anterior approach to address a variety of hip problems well beyond performing total hip arthroplasty for osteoarthritis. The unique applications of the direct anterior approach within the orthopedic sub-specialties are addressed in chapters covering the fields of pediatrics, sports medicine, trauma, and tumor surgery. Other chapters address subjects like femoroacetabular impingement, hip preservation surgery, and postoperative rehabilitation protocols designed to improve patient outcomes.

The final section of the text reviews the evidence-based outcomes related to direct anterior total hip arthroplasty, addressing evolving implant design concepts specific to this approach, and outlining directions for educating the next generation of surgeons who will continue to develop and refine these techniques. Complementing the written text is a website with educational videos to further enhance the learning experience.

To date, no other reference has addressed the need for comprehensive education for the orthopedic resident, fellow, or surgeon seeking to learn about the direct anterior approach for hip reconstruction. This resource should be invaluable to orthopedic surgeons worldwide and will contribute to improving patient safety, reducing complications, and better surgical outcomes. Indeed, this landmark publication is truly the world's first comprehensive text on anterior hip surgery.

Premium Content
Login to buy access to this content.