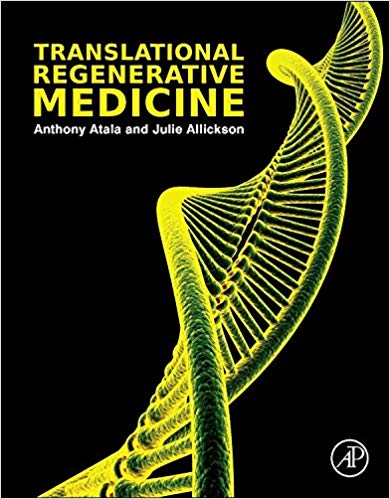 By Anthony Atala, Julie Allickson
Hardcover: 606 pages
Publisher: Academic Press; 1 edition (December 16, 2014)
Language: English
ISBN-10: 0124103960
ISBN-13: 978-0124103962
Translational Regenerative Medicine
is a reference book that outlines the life cycle for effective implementation of discoveries in the dynamic field of regenerative medicine. By addressing science, technology, development, regulatory, manufacturing, intellectual property, investment, financial, and clinical aspects of the field, this work takes a holistic look at the translation of science and disseminates knowledge for practical use of regenerative medicine tools, therapeutics, and diagnostics. Incorporating contributions from leaders in the fields of translational science across academia, industry, and government, this book establishes a more fluid transition for rapid translation of research to enhance human health and well-being.
Provides formulaic coverage of the landscape, process development, manufacturing, challenges, evaluation, and regulatory aspects of the most promising regenerative medicine clinical applications
Covers clinical aspects of regenerative medicine related to skin, cartilage, tendons, ligaments, joints, bone, fat, muscle, vascular system, hematopoietic /immune system, peripheral nerve, central nervous system, endocrine system, ophthalmic system, auditory system, oral system, respiratory system, cardiac system, renal system, hepatic system, gastrointestinal system, genitourinary system
Identifies effective, proven tools and metrics to identify and pursue clinical and commercial regenerative medicine
Premium Content
Login to buy access to this content.