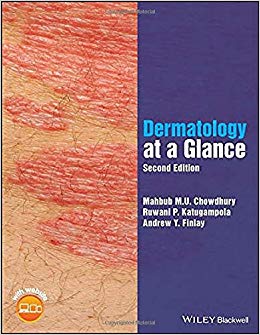 By Visit Amazon's Mahbub M. U. Chowdhury Page, search results, Learn about Author Central, Mahbub M. U. Chowdhury, Ruwani P. Katugampola, Andrew Y. Finlay
Series: At a Glance
Paperback: 184 pages
Publisher: Wiley-Blackwell; 2 edition (October 7, 2019)
Language: English
ISBN-10: 1119392616
ISBN-13: 978-1119392613
The field of Dermatology is expanding at a rapid pace ― new research findings and advanced treatment technologies have amplified the need for concise and up-to-date information on this dynamic area of medicine. Dermatology at a Glance provides medical students and trainees with a clear introduction to dermatological practice. This valuable resource covers essential components of dermatology, from patient consultation and basic procedures to advanced treatments of skin disorders. Illustrated with over 300 high-quality slides and full-colour photographs, this book is an ideal reference for those seeking to interview and examine patients, identify and diagnose skin diseases, and develop treatment plans.
Now in its second edition, Dermatology at a Glance offers revised coverage of the epidemiology, pathogenesis, and presentations of various skin disorders, and examines central aspects of the British Association of Dermatologists core curriculum. New chapters on topics such as dermoscopy, diagnostic methods for lesions and rashes, cosmetic dermatology, and drug reactions reflect current research and practices.
Perfect for revision and quick consultation with its highly visual approach
Eight brand new chapters, including hidradenitis suppurativa, itch, and systemic and topical drugs
Accompanied by a companion site featuring self-assessment resources and an image bank
Dermatology at a Glance is an indispensable resource for medical students, dermatology specialty and primary care trainees.
Premium Content
Login to buy access to this content.