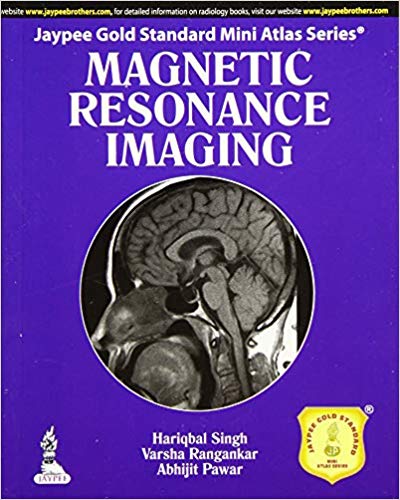 By Singh, Hariqbal, M.D., Rangankar, Varsha, M.D., Visit Amazon's Abhijit Pawar Page, search results, Learn about Author Central, Abhijit Pawar
Series: Jaypee Gold Standard Mini Atlas
Paperback: 427 pages
Publisher: Jaypee Brothers Medical Pub; 1 edition (October 1, 2014)
Language: English
ISBN-10: 9351523748
ISBN-13: 978-9351523741
Magnetic resonance imaging (MRI) is a type of scan that uses strong magnetic fields and radio waves to produce detailed images of the inside of the body. An MRI scanner is a large tube that contains powerful magnets. A patient lies inside the tube during the scan (NHS Choices) .
Part of the Jaypee Gold Standard Mini Atlas Series, this book is a comprehensive guide to MRI. Beginning with an introduction to the history and physics of MRI, each of the following sections discusses imaging and diagnosis of diseases in different areas of the body.
MRI images for each condition are preceded by text summarising the disease, ultrasound and CT findings and important MRI findings to help clinicians interpret and make accurate diagnoses. The final sections list MR terms and acronyms.
Key points
Part of the Jaypee Gold Standard Mini Atlas Series
Comprehensive guide to Magnetic Resonance Imaging (MRI)
Presents MRI images with descriptive text for numerous diseases
Includes lists of key MR terms and acronyms
Premium Content
Login to buy access to this content.