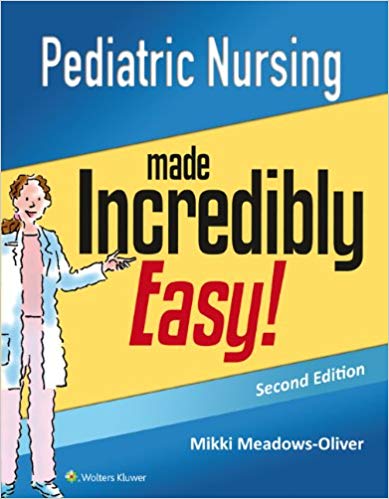 By Visit Amazon's Lippincott Williams & Wilkins Page, search results, Learn about Author Central, Lippincott Williams & Wilkins
Series: Incredibly Easy! Series®
Paperback: 640 pages
Publisher: LWW; Second edition (August 16, 2014)
Language: English
ISBN-10: 1451192541
ISBN-13: 978-1451192544
Pediatric Nursing Made Incredibly Easy!
Second Edition
Whether you are prepping for the NCLEX or certification exam, looking for an aid to class materials, or just want to refresh your skills, Pediatric Nursing Made Incredibly Easy! is the answer. Part of the award-winning Made Incredibly Easy! Series, this fun, practical guide addresses pediatric care and childhood disorders in light of each level of child development, with a family-involved care approach. Full of expert insight and MIE 's trademark wit, this lively reference addresses the full range of common pediatric conditions, and illuminates the many roles of the pediatric nurse.
Features:
· Current data on more than 100 pediatric disorders, including genetic and cognitive disorders
· Coverage of topics including: cultural considerations, hospital care, children with disabililties and terminal illness, pain assessment and management, drug metabolism, healthcare team collaboration, ethics and professional boundaries
· Full color inserts illuminate complex concepts
· "Nurse Joy" and other illustrated characters offer tips and insights
· Easy-reference format with concise, bulleted content
· Numerous tables, illustrations and flow charts
· Special features:
· Just the Facts – quick summary at start of each chapter
· Quick Quiz – at end of each chapter
· Advice from Experts – experienced practitioners' insights
· It's all relative – teaching tips and checklists for family education
· Growing pains – developmental stage descriptions, expectations and risks
· Cultured pearls – insights on unique aspects of care by cultural group
· Glossary of essential pediatric terms, selected references, and online sources
Premium Content
Login to buy access to this content.