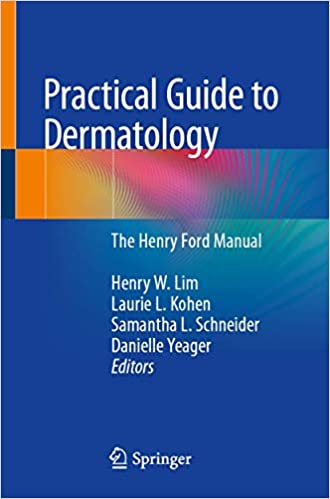 By Henry W. Lim, Laurie L. Kohen, Samantha L. Schneider
Paperback: 317 pages
Publisher: Springer; 1st ed. 2020 edition (October 17, 2019)
Language: English
ISBN-10: 303018014X
ISBN-13: 978-3030180140
This practical manual provides a real-world educationally focused resource. It enables the reader to gain a good understanding of a range of skin diseases, their differential diagnosis and various medical and/or surgical treatment options. Topics covered include general dermatology, oncodermatology, drugs, phototherapy, pigmentary disorders, skin of color, inpatient dermatology and pediatric dermatology. Emphasis is placed on concise, practical points that one can use in clinic, with informative pearls to reinforce the key messages in each chapter.
Practical Guide to Dermatology: The Henry Ford Manual systematically describes a broad range of practical concepts, diagnostic and treatment techniques involving various dermatological disciplines. It represents a valuable reference guide for practising and trainee dermatologists alike.
Premium Content
Login to buy access to this content.