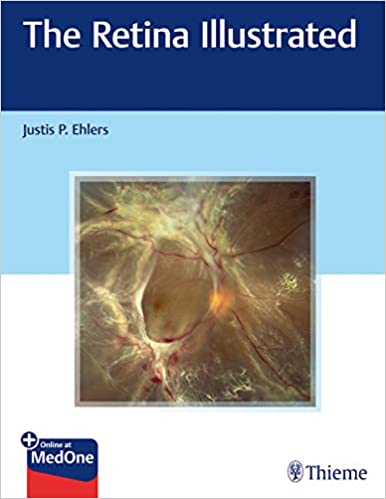 By Justis Ehlers
Paperback: 448 pages
Publisher: Thieme; Illustrated edition (October 9, 2019)
Language: English
ISBN-10: 1626238316
ISBN-13: 978-1626238312
A day-to-day guide on the diagnosis and management of routine to complex retinal disorders
The diagnosis and treatment of retinal eye disorders often presents significant clinical challenges. The Retina Illustrated, edited by renowned retina specialist Justis Ehlers and an impressive group of worldwide contributors, provides a rapid-fire yet thorough approach to the visual world of retinal disease. Organized into ten sections and 102 succinct yet comprehensive chapters, this richly illustrated reference covers the full spectrum of retinal disorders, ranging from common degenerative diseases to emerging infectious retinal diseases.
The book opens with a discussion of state-of-the-art diagnostic tools, followed by nine disorderspecific sections describing diagnosis and treatment of a wide-spectrum of retinal disorders, including degenerative, vascular, infectious, inflammatory, traumatic, oncology, and toxicities. The text covers the full age continuum, from conditions primarily impacting older adults, such as age-related macular degeneration and choroidal atrophy, to pediatric disorders, such as retinopathy of prematurity.
Key Features
Discussion of cutting-edge imaging diagnostics, including ultra-widefield angiography, intraoperative optical coherence tomography, and OCT angiography
More than 400 high-quality illustrations augment the text, enhancing understanding of retinal disease, from symptoms and signs to differential diagnosis and management
Reader-friendly format provides rapid assessment and review of numerous conditions
This is a must-have reference for all providers who encounter patients with retinal disease, including general ophthalmologists, retina specialists, emergency medicine physicians, and optometrists. Ophthalmology residents and fellows-in-training will also find this book an invaluable education tool.
This book includes complimentary access to a digital copy on https://medone.thieme.com.
Premium Content
Login to buy access to this content.