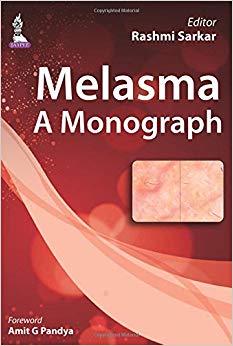 By Sarkar, Rashmi, M.D., Amit G. Pandya
Paperback: 86 pages
Publisher: Jaypee Brothers Medical Pub; 1 edition (May 1, 2015)
Language: English
ISBN-10: 9351525430
ISBN-13: 978-9351525431
Melasma is a very common patchy brown, tan, or blue-gray facial skin discoloration, almost entirely seen in women in the reproductive years (MedicineNet.com).
This book is a concise guide to the dermatological disorder, Melasma.
Divided into 14 chapters, the book covers all aspects of the condition, starting with epidemiology, pathogenesis, clinical features and its global distribution. Various treatment options are described such as photo-protection, cosmetic camouflage, hydroquinone- based therapies, and chemical peels. The concluding chapters feature discussion on the quality of life of melasma patients, and melasma in men.
Written by international experts in the field of dermatology,Melasma: A Monographincludes full colour images to enhance the concise, but informative text.
Key Points
Covers epidemiology, pathogenesis, clinical features and therapies
Includes chapters on quality of life and melasma in men
Text enhanced by full colour images
Premium Content
Login to buy access to this content.